Reporting & Dashboards
Enterprises depend on time-critical information for decision making. Leaders across the organization wants to see things in the business that they couldn't see before. People wants answers to questions they previously wouldn't have thought to ask. Accessibility to information with ease, speed and accuracy within all business units are the need of the hour. With the growing demand for information creates both an opportunity and a challenge for enterprises to provide access data with ease, ensuring security and governance.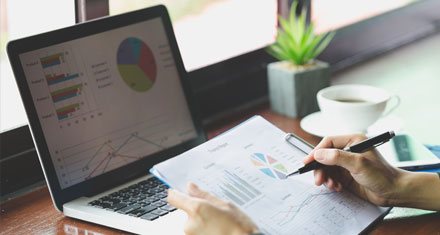 At SMACT works we help you see your data in an easy to understand manner. Our Data specialists use new tools and technologies to manage all your data. By combining our Business Intelligence, Data Warehousing, and Big Data expertise, SMACT team can develop meaningful reports and dashboards to add value to your analytics initiatives. Our team can develop reports and dashboards that can present data visualizations in clear, logical formats that can get into nitty-gritty detail or be used as a big-picture, executive summary.
Get maximum value from your data with SMACT Reporting and Dashboard Services
Service Offerings
Reports & Dashboards

Design and Build of Personalized, Interactive, Real-Time, Self-Service Reports and Dashboards with KPIs, Metrics and Trends.

Advanced Analytics

Perform Data Mining, Statistical Analysis, Forecasting, and Optimization for rapid data based decision making.

Cloud Analytics

Rapid deployment of reports through a set of analytical tools and techniques for easy access to powerful analytics.