Business Intelligence
Modern era demands quick and relevant information for businesses to perform efficiently. Business intelligence (BI) and Data Warehouses (DW) are decision support technologies for the enterprises aimed at enabling top executives to make better and faster decisions. Businesses today collect data with a greater grossness, which is therefore of much larger data dimensions. Businesses are taking advantage of their data as asset and rapidly deploying and investigating with more refined data analysis methods to drive business results. From last two decades we have observed tremendous growth of different products and services offering BI & DW solutions.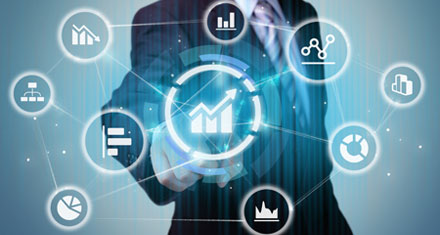 SMACT team of analysts and data architects will work with enterprises to build a roadmap to success with Business Intelligence (BI) and Data Warehousing (DW). Our team focuses exclusively on developing forward-thinking BI and DW services. We've consciously evolved our BI practice over several years by developing best practices and by recruiting leading data architects and thought leaders in the field of Business Intelligence and Data Analytics. Regardless of the state of your data, SMACT can help get you on the right track and start delivering results.
SMACT BI services provide vital information to key decision makers at their fingertips to make important business decisions.
Service Offerings
Business Intelligence Roadmap

Assessments, Roadmaps, Data Governance, Solution Architecture, Organization Planning, Proof of Concepts and Proof of Value.

Architecture Planning

Needs Assessment, Capacity Planning, Benchmarking & Solution architecture based on proven principles of data science

Rapid Deployment

Agile Approach, Proven & Refined BI / DW Deployment Framework, Maximum Results, Minimum Overhead Costs.

Enterprise Data Warehouse

Evaluate, Design, Install, Configure and Implement high-performance Enterprise Data Warehouse solutions.

System Optimization

Data Warehouse Optimizations, Performance Measurements, Analysis of Data Types & Data Models, Datamarts Consolidations

BI Managed Services

Output-based services, Job Monitoring, Troubleshooting, Data Stewardship, Training, Post Implementation Support.